Come down and let the Award winning Certified Master Groomers at Krista's Dog Grooming Salon give your dog the pampering they deserve. While here your dog will be treated to two shampoos with our all natural quality pet shampoo, they will also receive a remoisturizing conditioning treatment complete with body massage.
Your dogs grooming experience will continue with a refreshing hand drying where they will continue to be treated with respect and gentle kindness. Our top quality grooming team will ensure that your dogs grooming is complete; taking care to clean ears, trim nails to the correct length and then complete the grooming treatment by giving your dog a quality hair cut, using all the skills at our disposal to make your dog look like a star.
The grooming experience continues with a body spray cologne (optional), of the highest quality, a bandana and/or bows (for the ladies).
Your dogs grooming experience is completed with a yummy treat when they leave.

Your dog will always be treated with gentleness in a non-agressive manner. We take every precaution to make your pets visit an enjoyable experience.
We guarantee your pet will leave happy!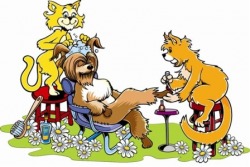 In the winter months we have dog coats in several styles, and in the summer we have t-shirts, summer dresses and several other
interesting clothing items for your pet.
All of your pet care needs can be fulfilled here at Krista's Dog Grooming Salon, and when you are looking for a high quality, complete, alternative dog food choice, we have fresh frozen raw dog food from
Common Sense
for your dogs.
We invite you to come and visit our clean, professional salon anytime. We are always available to consult with you at no charge.
Please Visit our Facebook Page
click here>> Krista's Dog Grooming Salon